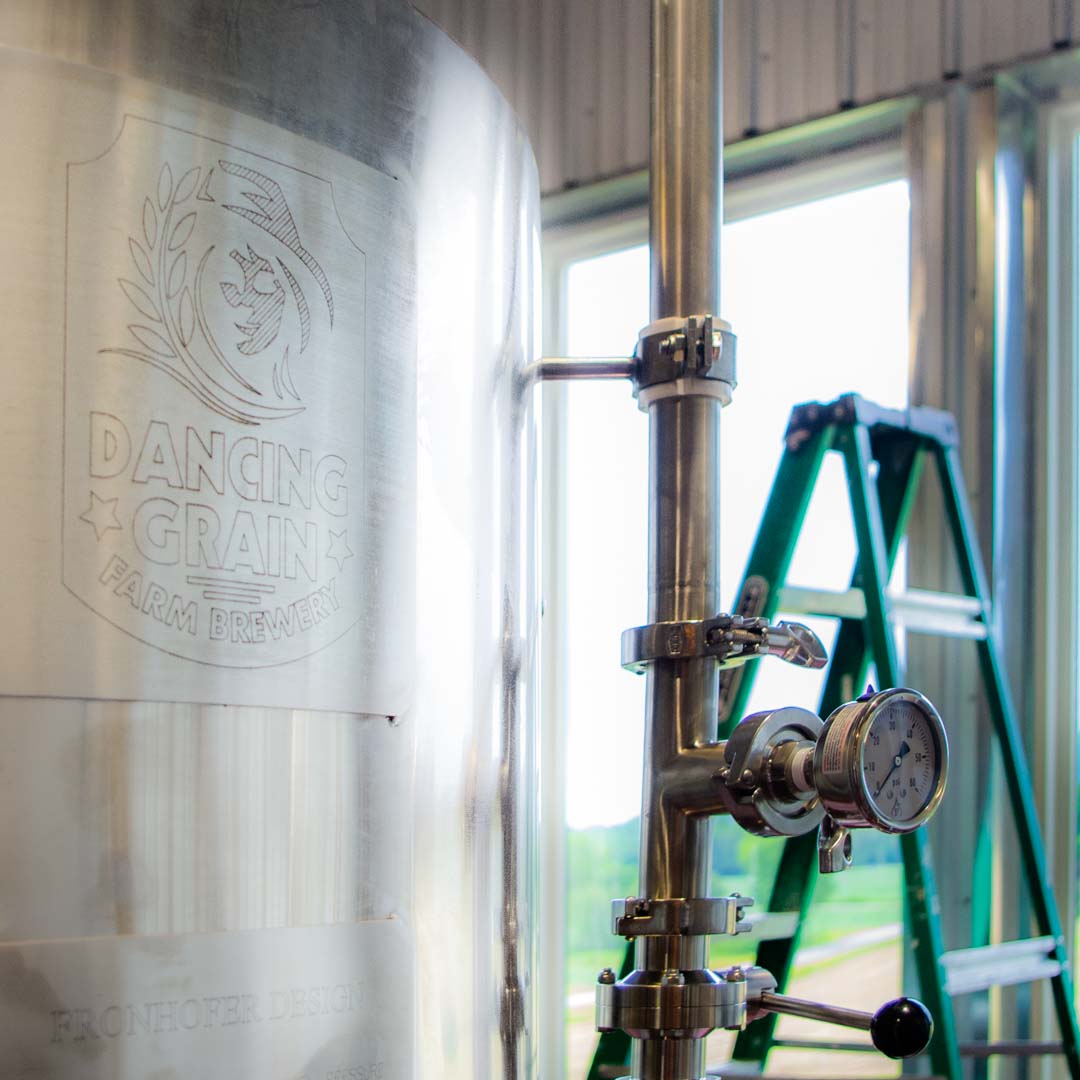 15 Sep

First Look: Dancing Grain Farm Brewery – Glens Falls Living

Read Full Article by Glens Falls Living Here

Have you been to Dancing Grain yet? Just over the bridge in Moreau, the farm brewery opened last weekend and we were one of the first in line. After a few moments enjoying a craft beer in one of their Adirondack chairs overlooking the farm, it was clear that this will be one of our new favorite spots. We caught up with owner Rachel McDermott to find out more about how Dancing Grain came to be, what they've got on tap, and more…

Tell us a bit about yourself and your background!

I grew up on our family's farm in Schaghticoke, New York, and loved being around the tractors and trucks. My parents were divorced, and while my mom worked a more traditional job, my dad worked on his farm. I spent a lot of time there with my dad and my uncle. My sister would go to the babysitter and I always preferred to stay behind and hang out on the farm, and eventually, I started helping out as much as I could. It was just where I felt comfortable.

As I got older, I became more interested in music. I was a classically trained clarinetist. I went to music school my freshman year of college but soon discovered that it wasn't going to be my life's goal and transferred to Cornell's College of Agriculture and Life Science to pursue a Finance degree (which, interestingly, wasn't focused on agriculture).

After graduation, I started my career in Houston as an investment banker. I really liked the team there but Texas just wasn't home for me. After five years, I transferred back to New York City. That was an exciting time for me, getting back to the Northeast.

At that point, I was about to turn 30, and I wasn't sure what direction I was headed. I decided to go on this very cliché Eat Pray Love trip across Europe, and when I came back, I knew I needed to quit my job. I had no prospects of a new job at that point, and I didn't know what I was going to do. So, I moved home to the farm, which turned out to be the preamble to Dancing Grain.

How did Dancing Grain come to be?

When I got back home to the farm, I had all of this investment banking experience that I was no longer using, so I started to look at what was going on in upstate New York to see how I could apply that experience here. I stumbled upon farm brewery laws and some of the benefits of being a producer. At that point, my dad had already invested in land, in tractors, in planting and harvesting equipment, and in storage capacity. We had this core competency, and these core assets, and I realized we just needed a new product. We needed to switch gears and tap a different market. That market turned out to be craft beer.

I'm not someone who has ever been a home brewer, and I've never been obsessed with beer. I was obsessed with the ingredients that make up beer because of my history with farming. That's where Christian and Bert Weber, our partners and the founders of Common Roots, came in. They have a core competency that I don't have, and their insights have been incredibly valuable. From advice on brewing, to so many other things that I never thought of, like a point of service system, and even which glasses to order! I'm so happy to have them on board.

What inspired the name?

When you're here in the spring through the early summer, before we harvest the grain in July, you can see the the malting barley and other specialty grains in the field below the brewery. When the wind blows, it almost looks like Mother Nature created a beautiful waltz. It looks like the grain is dancing, like it's happy to be here. That was our inspiration.

Let's talk about the beer!

Yes! So, this past week we had five beers on tap. We're trying to do a variety of beers, but to be honest, we'll probably focus on malt forward beers. I'm sure we'll always have some sort of an IPA or a pale ale on tap, but we are first and foremost grain farmers, so I want to highlight and showcase the grain as the headliner to the beer. You can have beer without hops, but you cannot have beer without barley.

All of our beer right now (with the exception of the Strictly Social IPA collaboration with Common Roots) is almost entirely made up of grain that's grown from our farm, and we're super proud of that. We're using as much as we can from our farm.

First, we have the Cream of the Crop, which is a cream ale. My brewer, Jamie, actually built that recipe for my uncle, who likes to drink beer, but doesn't necessarily like to drink craft beer. That recipe uses our farm's barley and our corn. It's the kind of beer you want to drink when it's 90 degrees out. We'll likely always have that on tap.

Last week we released a stout, Stolen Fire, which uses fennel that we grew on the farm in addition to our 6-row malting barley.

We have the Foreign Friends, farmhouse style, which again, uses our grain along with a yeast strain from Belgium.

We also have the Picnic Basket, which is a kettle sour that uses our grain along with a local yogurt culture and blueberries from Winnie's Blueberry Farm just up the road.

And finally, we have the Strictly Social IPA, our collaboration with Common Roots, which everyone is loving. It's one of our biggest sellers. That uses all South American hops. It's juicy, it's fruity, it's citrusy – it's everything we hoped it would be as an IPA!

We also have drinks for non beer drinkers – we have a dry Riesling from Forge Cellars, a Rosé and a Red Blend from Bridge Lane which is a winery on Long Island, and then we've got Nine Pin Hard Cider. We have a non alcoholic seltzer that our brewer makes every week using herbs from our garden or something that I've foraged — this week is a sumac seltzer, which tastes almost like a pink lemonade. And finally we have the Nitro Coffee from Kru.

How has it been seeing all of this finally come to fruition?

We've had such positive feedback. I'm so thrilled by that. So many people have come in that live five or ten minutes away, and I'm so happy to be able to share this farm with them and with the community. I am also really happy to see that the whole idea of supporting local businesses is still alive. I just feel really grateful that I have the support of our neighbors. Because without that, we're nothing.

What's next for Dancing Grain?

We're going to walk before we run, but as we continue on, there will be more opportunities for people to engage with the ingredients in the supply chain and to learn and understand how Dancing Grain makes our beer with the ingredients that we grow. I'd love for it to become more of an immersive space. We'd like to create walking paths through the grain, where you'll be able to decipher the differences between malting barley and oats and wheat. I think that's an important part of the story that we're just beginning to tell.

We also hope to focus on additional products over time. I'd love to get into distillation, and we'd really love to get into milling and baking. Hopefully it will become a sort of center for local grain production.

Most immediately, we're also planning to do events focused around each season. We're excited to be opening our sunflower field this weekend! Admission is $5 and stems are $2 each. Hope to see some new faces here!